~ About Stanford Ringing Group ~



The Stanford Ringing Group has been ringing birds for 35 years at Stanford Reservoir.

Founder Mick Townsend recalls how it all started, some of the personalities and highlights along the way, plus the present group composition!



In the beginning....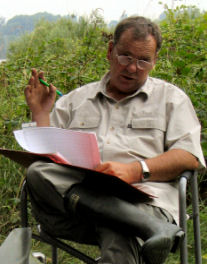 MJT in uncharacteristic pose - he's sitting down!


Peter Finden and myself had been ringing together for a while with The Brandon Marsh Ringing Group in Warwickshire. During the winter of 1975 we investigated a possible new ringing site at Stanford Reservoir (SP 6080) on the border of Leicestershire and Northamptonshire.

We saw Great Grey Shrike and a pair of Short eared Owls during that first visit and after a walk around the reservoir we decided that it clearly had potential! Although, there was very little vegetation on the Northamptonshire side, the Leicester side looked a lot more promising. In those early days the reservoir was still being used on a regular basis as a water supply to Rugby and therefore the water level often fluctuated, resulting in wide margins of mud where waders could rest and feed.

Permission was obtained from Severn Trent Water and we started ringing on the 8th May 1976 under the banner of the Brandon Marsh Ringing Group.



First catch (birds and trainee)...



Our first catch was 43 birds in the bay on the Leicester side, 32 of these being warblers. We went on to catch 2,534 birds that year (which stood as our annual record until as recently as 2004).

The following week we met a local birder, John Cranfield, who stopped and helped us that day. The following year John became a trainee, quickly gaining his "C" licence and then his "A" in 1980. We ringed together ever year thereafter, both in the UK, and abroad, until Johns untimely death in 2013.



Formation...



At the end of 1978, Peter Finden decided to give up ringing and concentrate on his birding, so John and I continued, along with the help of a new recruit, Dr David Porter. 1980 saw the eminent Leicestershire ornithologist Ron Hickling (*) join us. Although advancing in age, Ron was a great asset to us and encouraged us to form our own group.

In 1982 the Stanford Ringing Group was formed. Peter Grant (**) designed our logo of Black Terns (a species far more frequent in those days than it has been recently). Ron decided to give up ringing at the end of 1983 and was a great loss to us as he was the font of all local knowledge.



Group Activities...



The size of the group has fluctuated greatly over the years from ten or more members down to two, so understandably there have been years when little ringing has been undertaken – notably 1988-91 and 1996-98.

One of our key goals has been to introduce people to bird ringing and we have trained many people to enable them to gain a bird ringing licence. Some of these trainees have gone on to become trainers in their own right.

We also started a programme of site maintenance during the winter months in conjunction with Northamptonshire Wildlife Trust. This takes the form of scrub management and clearance and the work is undertaken each year between January and the end of March. Assistance is always welcome! Afterwards we can usually be found at our local headquarters - The White Hart at South Kilworth!

The management of the scrub around the reservoir has undoubtedly increased the numbers of warblers using the reservoir margins for both breeding and feeding up both before and after migration. We are now ringing, on average, two to three times as many warblers in comparison to earlier years. Over the years there have been a number of interesting species either ringed or recorded at the reservoir.



Interesting birds...



We've been lucky enough to catch and ring a number of interesting birds for the area such as -

Long eared Owl (1982 &1994)
Hoopoe (1984) - less than 25 ever ringed in Britain at that time
Red Backed Shrike in 1984
Black Redstart (with brood patch) 2002
Nightingale 1994
Firecrest 1984 & 2001
Wood Warbler 1977 & 1982
Marsh Warbler 1984 & 2000
Cetti's Warblers in 2005, 2006, 2007, 2009, 2010 & 2012
Icterine Warbler in 2008
Yellow-browed Warbler in 2010
There have also been a number of interesting accepted sighting records for Stanford Reservoir -

Lesser Yellowlegs - Two records: One present from October 17th to 23rd 1964 was the first Leicestershire record and one from September 25th to 27th 1995. Both records were accepted by the British Birds Rarities Committee (BBRC).
Wilson's Phalarope - A single bird stayed from September 29th until October 3rd 1991.
Franklin's Gull - One on 4th November 2002 was a first for the County.
Roseate Tern - Two records: One on May 1st 1981 and a bird which was found dead on the dam 23rd May 2004. The latter had been ringed as a nestling at Rockabill, Co. Dublin on 16th July 1980 and represents a UK longevity record.
Whiskered Tern - A first-winter bird was seen on October 22nd 1991. This was the first recorded sighting of this species in Leicestershire, the second in Northamptonshire and was only the second ever recorded in Britain in October.
Alpine Swift - A record of one seen 25th May 1986 was accepted by the BBRC.
Great Reed Warbler - One record for the Northants side: A single bird on September 5th 1976 was accepted by the BBRC and is the 2nd county record.
(A full bird species list with status comments from 1930 to the 2010 can be found here)

Recoveries and Controls have featured heavily over the years with birds coming and going in all directions. Highlights have been a Chiffchaff down to the Coto Doņana National Park, SPAIN; a Redwing to GERMANY; a Garden Warbler from SPAIN (at the time, this was the first from there to Britain), a Goldcrest from FINLAND (just 20 days after having been ringed there) and a Great Black-backed Gull arriving from within the Arctic circle in RUSSIA.



Without you it wouldn't have been possible...



Finally I would like to give warm and heart felt thanks to the land owners for allowing us access and of course the group members, both past and present, who have given their time and effort unstintingly. Without all of your help the Group's achievements would not have been possible.

Special thanks, as always, for site access and support to

Severn Trent Water
Northamptonshire Wildlife Trust
Dr Lott and staff of Parkers Farms
Geoff Allen
The Current Team...
| | |
| --- | --- |
| Mick J Townsend | Co-founder, "A" ringer, Trainer & Group Chairman |
| Adam G Homer | Group Secretary, "A" ringer, Trainer and Nest Recorder |
| Dave Neal | "A" Ringer, Trainer |
| Dawn Sheffield | "A" Ringer |
| Peter Norrie | "A" Ringer |
| Jo Underwood | "C" Ringer |
| Stuart Heath | "C" Ringer |
| Kate Moore | "C" Ringer |
| Theo de Clermont | Trainee |
| Chris Hubbard | Sightings Officer |
| Pete Bateup | Group Assistant |
---



* RONALD HICKLING ("RAOH") 1912 - 2006


Ron was born in Leicester and spent a lifetime studying its birds writing "Birds in Leicestershire and Rutland" in 1978 and editing "Enjoying Ornithology" for the BTO in 1983. A frequent visitor to Stanford, he was a founder member of the Leicestershire and Rutland Ornithological Society serving as Secretary, Chairman and then President and Honorary Vice President. He also served on Council and Scientific Committees of the British Trust for Ornithology, of which he was Vice-President (1969–1972) and President (1972–1976). He remains the only person to be awarded BTO's Bernard Tucker Medal twice – 1957 and 1983. The medal is awarded "for outstanding service to the Trust's scientific work, through Trust surveys or Trust-aided investigations"



** PETER GRANT ("PJG") 1943 -1990


Peter Grant was an illustrious ornithologist, Chairman of the British Birds Rarities Committee (1976 -1986) and on the editorial board of "British Birds" magazine for many years. He authored, co-authored and illustrated many articles and books. His first book, co-written with Dr Jeffery Harrison, "The Thames Transformed" highlighted the return of wildlife to the Thames as the waters became cleaner. His "Gulls – an Identification Guide", a result of many hours sea-watching at the power station outflow, "The Patch", off his beloved Dungeness, inspired many to study gulls in far more detail than they had done hitherto. The Collins Bird Guide, co-authored with Killian Mullarney was published after his untimely death.